Dear Visitor:
Welcome to our support community at ADHDNews.com. Our online store is a perfect way to help us keep ADHDNews.com running. Your purchases not only help us but you will be doing your part to bring public awareness and show your support for those with ADHD.
We just added some wonderful new support products which include our ADHD Awareness car ribbons and ADHD Awareness wrist bands. We look forward to serving your further.
Once again thank you in advance for your patronage.
Regards,
Adhdnews.com
Just Arrived! ADHD Awareness Car Ribbons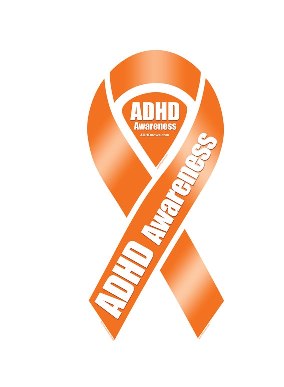 Size:

(8"long by 3-7/8" wide)

Price:

$9.95

Shipping:

FREE!
This magnet support ribbon is an excellent choice for your car. Fashioned after the support the troops ribbon this attactive orange ribbon is a great way to show support for someone with ADHD and to bring awareness to those around you.

All ribbons are weather proof and are easily applied and removed. Each magnet also has a insert that can double as a refrigerator magnet. Or you can use the whole ribbon as a refrigerator magnet. A great gift idea for the family to show your support.
ADHD Awareness Bracelets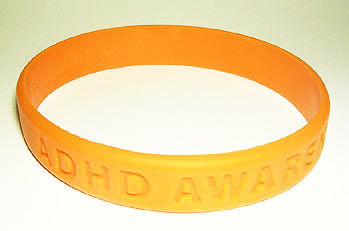 Size:

203 mm x 12mm

Price:

$10 Only

Shipping:

Absolutely FREE!
Get this attractive wrist band to wear it around your wrist, your arm or anywhere to show your support for your child or someone you know. Let them know that you care by wearing this beautiful adult size orange wristband with the stamped "ADHD AWARENESS" phrase making it a great conversation starter and a wonderful way to show your support.

Wear it anywhere you like:

Around your wrist
Through the laces in your trainers
As a hair band
Around the straps of your handbag
As a lapel ribbon
On your key ring

Hurry we have a limited supply, be the first to own one. Your order ships out right away. International orders welcome. All domestic and international orders ship out USPS mail. When you recieve your bracelet send us a picture of you wearing it. We're putting together an album!
New! ADHD Support Kit with Car Ribbon and Bracelets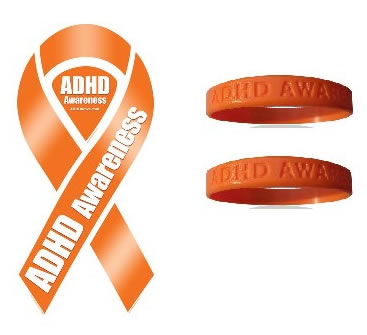 Size

(8"long and 3 7/8" wide) ribbon & (203 mm x 12mm) bracelet

Price

$19.95

Shipping

Absolutely FREE
This magnetic support ribbon is perfect for your car or refrigerater. This support kit also includes two "ADHD Awareness" bracelets that you can wear anywhere. Each awareness magnet is weather resistant. Our support kit is the best way to show your support for someone with ADHD and help us stay online with your purchase.